What to Expect From Fire Restoration Service Providers
11/17/2020 (Permalink)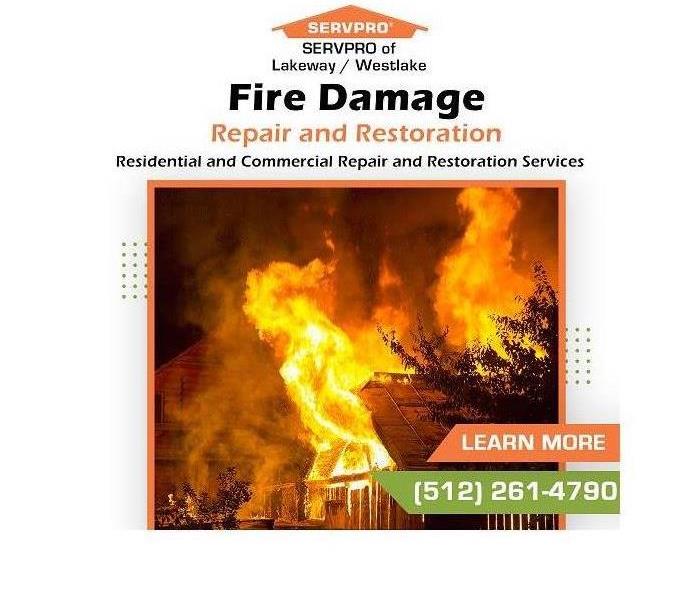 What to Expect From Fire Restoration Companies
Fires can lead to extensive damage to a home, business, and personal belongings. The property can sustain burns, water damage from sprinklers and fire trucks, and leftover soot and odors.
SERVPRO of Lakeway/Westlake and other fire restoration companies use several services and processes to bring a property back to its pre-fire condition. The timeframe to complete the work varies from property to property, so keep reading to see what it entails.
Contributing Factors to Fire Restoration Timeframes
It can take fire restoration companies several days to several months to restore a property. You must speak with your insurer and wait until the local authorities complete their investigation about the fire. Once the insurance agents determine your coverage, you can hire a fire damage restoration service to address your situation.
Fire, smoke, and water damage limited to one room are considerably easier to deal with than an entire floor or building. A one-room job may only take a week, whereas a whole house can take a month.
Other factors that affect the restoration time frame includes:
Type of fire (i.e., gas fire, electrical fire, etc.)
House structure
Amount of debris
Affected materials
Smoke contamination
The extent of smoke, fire, and water damage
Local restoration codes or requirements
Standard Processes of Fire Restoration Companies
Though there is no predetermined time frame for restoring every property with fire damage, a general rule to consider is that the more extensive the project, the longer it will take.
Fire restoration companies utilize several crucial steps to ensure the property's full restoration to make it safe and healthy for residents to occupy.
Inspection and Assessment: Before fire restoration specialists can complete any work, they must first inspect the property and determine the extent of the fire damage. During this time, they will provide property owners and insurance companies with an estimate for repairs, replacements, and how long it will take to finish.
Salvage Materials and Belongings: The cleanup team will remove salvageable items from the property to prevent additional damages. They will protect undamaged items and materials they cannot take from the building with a secure covering.
Cleaning and Repairs: Areas with fire or water damage will be repaired and cleaned. This step includes general sanitation to eliminate potential hazards. If there was water from sprinklers or fire trucks, water restoration companies might need to help with water removal. Because of smoke, the home may need an air duct cleaning service to remove leftover soot.
Replacements: For materials and belongings fire restoration experts cannot repair, you will need to replace them. Replacements often include flooring, furniture, wall coverings, and electrical outlets.
Restoration: The final part of the fire restoration process is bringing the property back to its original condition. Depending on how much damage occurred, the size of the property, and the materials requiring repairs and replacements, this step can be as simple as replacing carpeting or a complete reconstruction of a room.
Contact SERVPRO of Lakeway/Westlake
As one of the top fire restoration companies in Bee Cave, Texas, SERVPRO of Lakeway/Westlake offers customers superior fire damage restoration services. The building restoration service team understands that each situation is unique, and their skilled staff uses reliable processes and specialized services to bring your fire-damaged property into its previous condition.
From water cleanup to mold removal, you can count on SERVPRO for commercial cleaning service.
To learn more about SERVPRO of Lakeway/Westlake's fire damage restoration service, call (512) 261-4790 today.